We were asked by the lovely people at Rock Midgets to give our views on the music of 2008. Unfortunately they cut out the question where we name dropped all our fave British bands on the scene at the moment.
But, the rest is online now
CLICK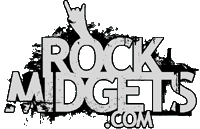 ALSO - Thanks to everyone who sent us kind words about our new track, glad it's being appreciated. It's called Such Stoics, by the way.